Appalling cruelty of underwater factory farms  
Fish are intelligent, sentient beings. They explore, socialise, and have personalities. But each year, up to 1.2 billion individuals are farmed in the EU, most of whom are crammed for life in crowded underwater factory farms and killed in unimaginably cruel ways. 
Our latest and first-ever undercover investigation of trout farms in Poland revealed the nightmare many fish are living. These sensitive animals can feel joy, fear and pain, just like us. Yet our investigators saw them crammed into barren tanks, swimming in filthy waters, piled and crushed on top of each other in barrels and transported without water.  Investigators also witnessed fish being slaughtered in appalling ways, including having their eyeballs removed and being gutted or even packed in plastic bags while still alive.  

Fish Investigation Footage
Shocking footage shows how weak EU legislation is and how much fish are suffering everyday!
Watch now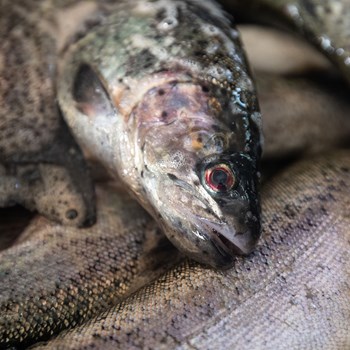 Play video
Tragically, these are not isolated cases. The majority of fish farmed in the EU are killed using inhumane methods and do not have their welfare well protected during rearing and handling.  
It is time to end this inescapable suffering that millions of fish are enduring all over the EU. 
We are demanding strong welfare legislation for fish. Please help us by joining our action today. 
Summary
CIWF Investigates EU Trout farms to discover billions of fish suffering in appalling conditions.
Download PDF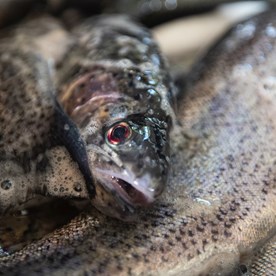 How to take part
Get creative for fish
We're asking YOU to send in a drawing of a fish, along with a clear message to the European Commission to propose stronger and species-specific welfare legislation for fish.
Draw your fish
On an A4 sheet of paper, use pencils, pens, crayons, paints or anything you like to show how a happy, healthy fish might look in its natural habitat. Include the message to the commission: We want stronger welfare legislation for fish – or feel free to use your own words (please be polite!). #EULawForFish  
Need some help?
Here's a template for you to use or take inspiration from Taya if you are an artist at heart.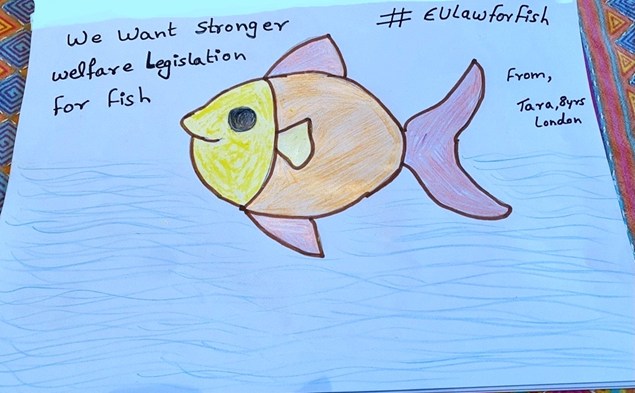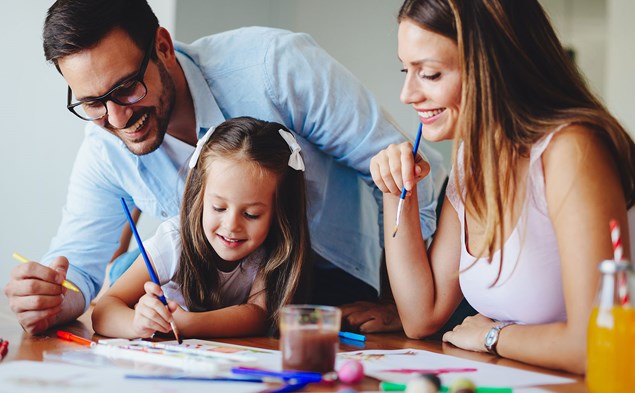 Family activity
This is an action for the full family and your young friends. Their voice needs to be heard as future generations will pay the bill if we are not acting now. Therefore, the more fish drawings we have, the stronger our campaign will be. 
Send your message
Email your drawing to: fishwelfare@ciwf.org or post it to CIWF, River Court, Mill Lane, Godalming, Surrey, GU7 1EZ
Entries must be submitted by 30th December 2023.
What happens next?
We'll hand-deliver your drawings to the European Commission as a powerful expression of how EU citizens feel about fish welfare.