Compassion in World Farming believes that meat alternatives are part of the solution to ending factory farming and transforming the global food system into one that is healthy, humane, and regenerative.
Our founder, Peter Roberts, was an early pioneer in this field, importing soya products for human consumption. During the 1970s and 1980s, his company, Direct Foods, developed and sold a range of plant-based innovations made from soya that included Sosmix and Sizzles, the latter mimicking the smoky taste of bacon.
In 2019, together with Humane Society International, we funded the Chatham House report Meat Analogues: Considerations for the EU. The report highlighted that building consensus across the scientific, environmental and public health communities for a radical shift away from excessive meat-eating patterns is urgently needed to tackle the unsustainability of the livestock sector.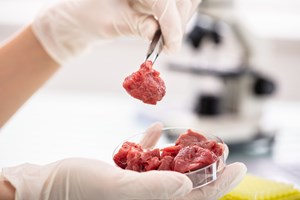 Compassion believes that alternative protein innovations, whether plant-based meat alternatives, cultured meat from stem-cells, or proteins from fermentation, offer a new approach to food production as well as the potential to replace the consumption of meat from intensively farmed animals - and thereby substantially reduce animal suffering.