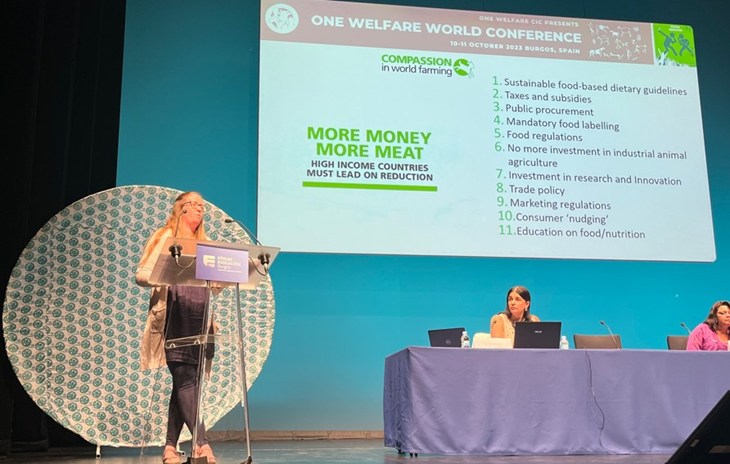 Dietary change is essential to ensuring the future health of both people and animals - that was the key message championed by our Head of Research Dr Sarah Ison when she spoke at the One Welfare World conference held in Burgos, Spain this week. 
The event, which brought together experts from all over the world, explored how animal and human health as well as environmental conservation are intrinsically linked and how collaboration between people working in these fields can be mutually beneficial. Compassion was a Gold sponsor of the event, and our contribution provided reduced and free admission for delegates from low and middle-income countries. 
Choose welfare, not extinction
The One Welfare concept helps to promote key global objectives such as supporting food security, sustainability, reducing human suffering and improving productivity within the farming sector. This is achieved through a better understanding of the benefits of high welfare standards.
One Welfare is a complement to One Health, adding the concepts of wellbeing and welfare to the philosophy that focuses on the health of humans, animals and the environment.
Dietary shift plays a key role in One Welfare
Speaking on the third day of the conference, Dr Ison presented on 'The One Welfare potential of dietary change', stressing the importance of eating less meat and other animal-sourced foods for the sake of people, animals and planet. She shared findings from her recent report, 'More Money, More Meat' which called on higher income countries to lead on this reduction and included specific targets for the top 25 consuming countries.
She said: "The One Welfare concept is becoming widely accepted as a natural partner to One Health so it was rewarding to spread the world to others across a number of different fields. It is a no-brainer that we can't ensure the health of our people, animals and the planet if we do not take welfare into account.
"The over-consumption of animal-sourced foods is not only the biggest cause of animal cruelty on the planet, it also causes numerous health issues for people. Reducing it should be a top priority for high income countries and must go hand in hand with the phasing out of industrial animal agriculture.
"Having fewer farmed animals in nature-positive systems can regenerate soils, restore and enhance biodiversity, build climate resilience, reduce pollution and ultimately, give farmed animals the highest potential for a good quality of life."
Find out more about our Global Solutions to build a food system that works for all.