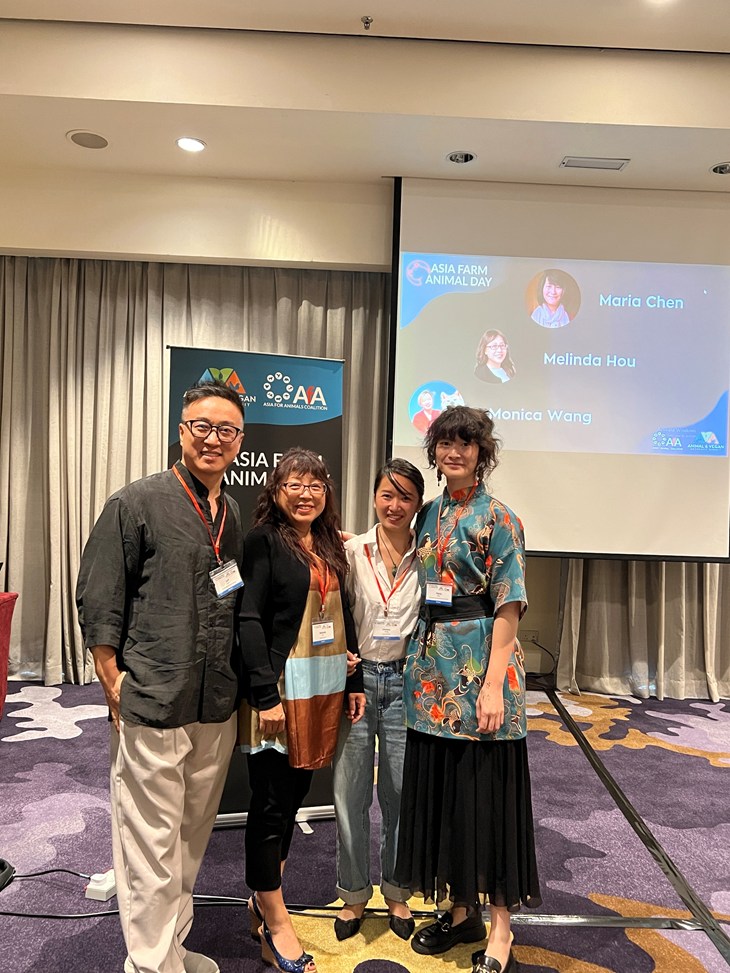 Last week, our China team took part in the first face-to-face Asia Farm Animal Day (AFAD) conference held in Kuala Lumpur, Malaysia.
AFAD – which is a collaboration between the Animal & Vegan Advocacy (AVA) Summit and Asia for Animals Farm Animal Coalition – brought together over 250 animal and environmental professionals to discuss critical issues related to farmed animals, social justice, and environmental sustainability. This in person event followed three years of virtual conferences.
It saw our China Chief Representative Jeff Zhou and China Research Manager, Dr Emma Tivey, make a significant impact as featured speakers.
The conference also provided an opportunity for like-minded advocates to connect and learn from one another in order to collectively create systemic change for farmed animals in Asia and beyond.
Introducing 'Intersectionality' in animal welfare
Jeff Zhou spoke on "Intersectionality: Integrating animal welfare with other aspects of life'" highlighting the need for issues relating to farmed animals to be addressed by people in varied industries and roles. This is all with the common goal of benefiting animals and promoting a more equitable world for all beings.
Many well-known figures in the animal welfare field also spoke, including Dave Neale from Animals Asia Foundation, Dr Susian to Tseng from World Vegan Organization, Angel Flores from World Animal Protection, and others. The aim was to share with attendees a broad range of strategies and tactics for advancing the vision of a more humane and sustainable world for farm animals.
EggTrack is a vital tool for transparency in Asian food businesses
Dr Emma Tivey was a key speaker in a panel session on 'Working with Corporates, Government and Institutions: Experiences from the Field'. The session focused on how corporate, government and institution relationships are crucial to many projects and campaigns and strategies to engage corporates and institutions to get commitments to eliminate/reduce animal products and replace them with plant-based options.
Dr Tivey introduced delegates to global EggTrack, our annual tracker to show the progress that companies are making towards their cage-free commitments across different regions, including Asia-Pacific.
Jeff Zhou said: "China's role in the farmed animal protection movement in Asia is significant, given the scale and expansion of factory farming. It is, therefore, absolutely crucial to have conferences like AFAD, as it offers an opportunity to come together with likeminded advocates to increase the impact of our work and create systemic change for farm animals in Asia and beyond.
"Together, we can work towards a future where animals, humans, and the environment thrive in harmony."
Dr Tivey also spoke at a second conference in Malaysia this month; the Asia for Animals Coalition Conference – Education & Engagement Bring Change hosted by Sarawak SPCA in Kuching.  She gave a presentation on how our Good Farm Animal Welfare Awards are key to engaging positively with food businesses in China. The brand-new Sow Stall Free Award was also launched.
Visit our China website to find out more about we advocate for a sustainable and fair global food system, please visit our website.