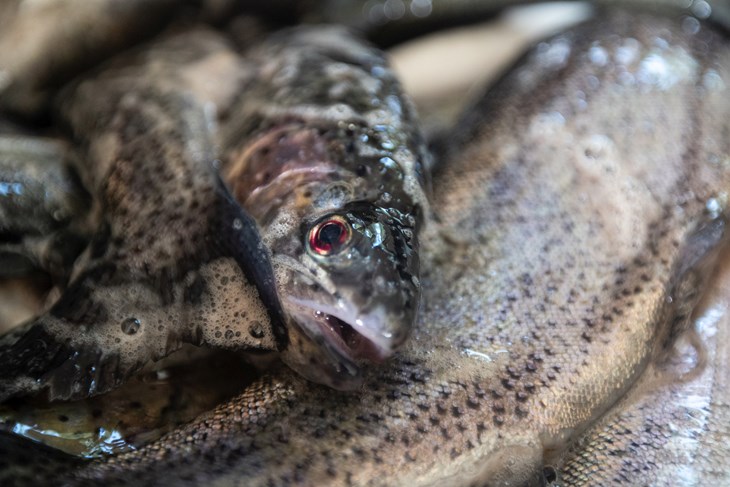 Today (31st October), we are calling on the EU Commission to urgently introduce legislation safeguarding the welfare of farmed fish. This call to action follows the release of disturbing new footage obtained from an undercover investigation we carried out, exposing shocking and widespread cruelty within EU trout farms.
Appalling scenes of cruelty
The harrowing findings from our undercover investigation at four trout farms in Poland are unveiled in a powerful video presented by renowned actor Zoë Wanamaker. The investigation lays bare horrifying imagery of live fish subjected to unimaginable suffering, including:
being gutted
having their eyes gouged out
being suffocated and crushed in overcrowded barrels, and
even being packed into plastic bags with no water.
Electrical stunning devices, intended to minimise pain, proved ineffective as shocks were repeatedly administered, inflicting further agony and distress. Additionally, the investigation revealed numerous other welfare concerns, including fungal infections, fin erosion, injuries, barren environments, and sick fish.
Immense suffering for farmed fish
Like many other animals, fish are sentient creatures capable of suffering and feeling pain. They are intelligent, sensitive animals who explore, travel, socialise, hunt and play, and some species care for their young and use tools as people do.
Dr Natasha Boyland, Fish Policy and Research Manager at Compassion in World Farming, said:
"This investigation has revealed appalling and widespread cruelty exposing the desperate and urgent need for improved legal protection for farmed fish in the EU and around the world.
"Our investigators witnessed widespread shocking cruel practices including live fish being gutted, being packed into plastic bags, and even having their eyes gouged out. The scientific evidence is clear that fish are sentient animals capable of feeling pain and suffering, just like other animals. It is therefore totally unacceptable to allow this barbaric cruelty to continue.
"We must ensure that fish are protected from cruelty by comprehensive and species-specific legislation and we urge the EU to introduce such legislation to protect their welfare without delay as part of the animal welfare legislation revision."
A critical gap in EU legislation
Annually, up to 1.2 billion fish of various species are reared in similar farms across the EU, with trout being the most commonly farmed fish in the region. Despite growing recognition of fish sentience and the need for improved animal welfare standards, a critical gap in EU legislation, and elsewhere in the world, leaves fish without adequate protection.
In 2020, the European Commission committed to revising animal welfare legislation – including transport and slaughter practices – to align with the latest scientific evidence on fish sentience. Despite these promises, the Commission has failed to publish new animal welfare legislation proposals.
As well as revealing cruelty, the investigation exposed alarming environmental concerns. Unhygienic water quality was found on all farms but one, with dead animals, faeces, and feed remains in ponds.
Actor and Compassion in World Farming supporter Zoë Wanamaker, said: "It's time that we stood up for the welfare of farmed fish which is why I am supporting Compassion in World Farming's campaign, calling on the European Commission to introduce legislation to protect these creatures."
Join us in showing the EU Commission how much citizens care about the welfare of farmed fish.