Compassion in world farming brand and visual ID guidelines
Welcome to the Compassion in World Farming Brand and Visual Identity Guidelines.
These guidelines are intended for use by staff and trusted suppliers of Compassion in World Farming. Our aim is to provide a user-friendly guide and the tools needed to apply and communicate consistently our global brand and visual identity.
Brand insight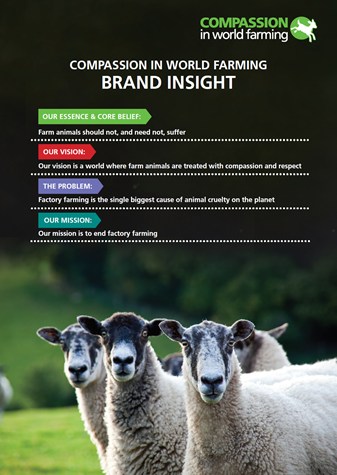 To understand our essence, core values, tone of voice, positioning, and approach, you can download insight into Compassion in World Farming's brand as a PDF.
Visual ID guidelines
Before using Compassion in World Farming logos and artwork, please download and read our International Visual ID Guidelines.
Logos and fonts
Download international logos and fonts.
We like our logo!
Please don't change it. Please treat our logo with care and compassion and give it the space it needs.
Size matters
We want our logo to be seen. It can be as big as you like, but please don't make it any smaller than 40mm wide (or 30mm for CIWF version).

It's a 'free-range' logo
Please don't box our logo in; it needs breathing space from text, images and other graphic elements, such as third-party logos on joint projects.
The minimum clearance space on all sides of the logo is equal to the width and height of the capital letter 'M' in COMPASSION or the 'W' in CIWF: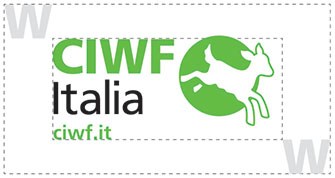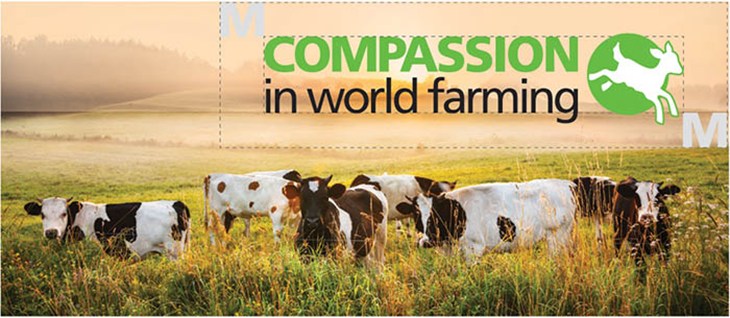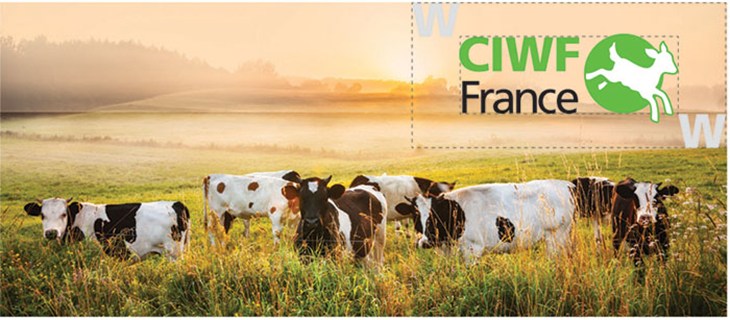 Common mistakes
Using backgrounds that affect legibility:

Boxing it in:

Distorting by squashing, stretching or rotating:



Altering the colour or the typeface:


Re-arranging the elements:

Protected by trademark
The Compassion in World Farming International logo is a registered trademark:
UK Trade Mark Registration (UK Intellectual Property Office): 2472685
EU Community Trademark (OHIM – Office for Harmonization in the Internal Market): 007584551 and 007584451.
Contact details
Our aim is to continually update these pages and improve them over time. If you have any suggestions or corrections, please contact us.
Quick links
Download all logos and assets.
To request a logo modification please make an application using the Logo Modification Request Form.
Quick links to country-specific logos:
Imagery Guidelines
Before applying text or logo to images, please be mindful not to compromise legibility by using busy background images and colours.
Good Image Use
Clean, natural, bright & fresh – representing the environments we want farm animals to live in. In focus, high resolution, well photographed, engaging images that convey the value, sentience and beauty of farm animals.
Close ups, detail and unusual crops create a sense of intimacy and spontaneity; we particularly like the eyes of animals – they tell a story.
We use investigative photographs and film stills that expose the gritty horrors of factory farming; but nothing too gory so as to abide by fundraising/advertising standards. Remember that any ID tag must have the number obscured, so as to protect the investigator and the farm.
Montages of supporters in action – e.g. at events, demonstrations, on Twitter – are impactful and help support the feeling of our 'movement'/voices coming together.
Use captions for credits and or to describe further information about the image. Text overlaid on images should be avoided and if used be minimal and illustrative only. Any text overlaid on an image must still be clearly legible on smaller screens such as mobile.
All images must have alternative text. This should describe the story of the picture, telling the Who, What and Where of the image.
If purchased from third-party libraries, you must credit photographers/agencies where required. The standard wording is: Photo © Name/Organisation.
Important
Make sure the image is correct! E.g. When talking about broiler chickens, don't use an image of an egg-laying hen; when talking about organic pigs, make sure their tails are intact. What we do is quite specific, so we have an extensive Image Library that reflects our activities: investigations, campaigns, research, farming, farm animals.
Make sure you have permission to reproduce the image in print and online – special licences are required for different media, e.g. commercial licences are required if we are selling merchandise that has a stock photo (t-shirts, cards etc).
What to avoid
Images that risk making the organisation look foolish, amateurish or unprofessional; and that misrepresent the truth: Low resolution, out of focus, 'busy' images that lack focus.
Using over-artworked images, clip art, and low-quality stock photos that don't reflect our professionalism. Images that are too cute or anthropomorphic.
Occasional cut-outs of individual animals, front-facing – for raffle stickers, SET posters, FAV are acceptable – but never a group, floating in mid-air, or facing away from the text.