Circle Stories: A Conversation with Margaret and David Harrold
Published 7/7/2022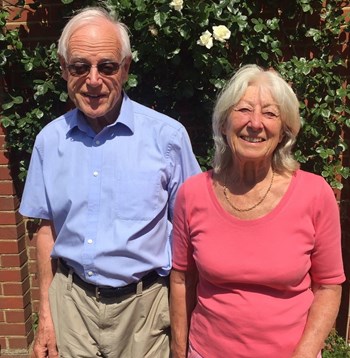 Compassion in World Farming is very fortunate to have wonderfully loyal supporters! Two of our most longstanding donors are Margaret and David Harrold who have been supporting our work for many years. They joined the Circle of Compassion in 2014 and have made an annual gift ever since.
David and Margaret love attending Compassion events, where they value the opportunity to meet other like-minded people, who all hope for a world without suffering for farm animals; and we at Compassion very much enjoy seeing them.
Here, they share their journey as Compassionate farm animal welfare advocates with us…
Margaret and David, we are delighted to have you both as enduring and loyal supporters of Compassion in World Farming. When did you first learn about our work and what drew you to be a part of the Circle of Compassion?
Margaret: It's been so long since I first got involved that I cannot actually remember how I heard about Compassion. But, I do know that it was long before you received Charitable Status. The more I knew about you the closer I wanted to be involved and hence join the Circle.
David: I am not sure exactly when I first learned about Compassion in World Farming, but I think it was around 2000, at the start of the new millennium.
I wanted to be involved because I was so impressed by the progressive way that Compassion was tackling the urgent problem of farm Animal Welfare.
Please can you share with us your own personal journeys towards Compassion for farmed animals?
Margaret: I heard Joyce de Silva speak (Trustee and former CEO of Compassion in World Farming), and this was a turning point for me. Added to that, every news item from across the world made me more convinced that work needed to be done and facts to be exposed about the way animals are treated.
David: Some 20 or so years ago, Margaret and I spent a most interesting holiday travelling in Laos. One leg of our journey involved a short flight in a small plane. There was another couple also on the flight with us and they, alarmingly, were carrying a piglet in a sack on the aircraft with them. At one point the animal, obviously terrified, started to squeal and the husband used heavy-handed methods to quieten the animal down. Margaret and I were shocked by these actions and my conscience plagued me afterwards because we had not intervened.
As you and I know very well, pigs are intelligent and sentient beings. This is why I support Compassion in World Farming.
What do you think are the greatest challenges that Compassion faces today?
Margaret: As has often been mentioned, the 'elephant in the room' is population. We are approaching a recession and people are even more pressed to meet their bills, cheap food will become a bigger issue and therefore I feel that animal welfare will get pushed down the agenda.
David: The greatest challenges are food shortage and poverty, closely followed by cruel slaughter practices.
If there were one person in history that you would wish to have a conversation with, who would it be? How do you think they'd behave if faced with the challenges of our times?
Margaret: I would like to meet William Wilberforce who not only tried to abolish human slavery but was one of the founders of the RSPCA. I often reflect that during the time of the slave trade, people did not recognise all humans as equally sentient, and now their eyes are open to that cruel injustice. Hopefully the same will happen regarding animals and especially the way in which we treat farm animals.
David: St Francis of Assisi! I would ask him why he loved animals and did he think they had souls. He would be appalled by modern factory farming and the transport of live animals.
I believe he would be happy to be our Patron Saint!
Is there anything that you feel we at Compassion should be doing more of/better?
Margaret: Compassion is doing a brilliant job in exposing the problems. I am particularly impressed that the organisation does not claim to be vegan or vegetarian (although many supporters are) and is non-political. We need to encourage the support of as many people as possible and not alienate those who would be willing to help but are afraid of being swept up in an aggressive animal rights organisation.
I really appreciate those opportunities that Compassion offers us to meet fellow supporters. Sometimes I feel very alone in my views and really enjoy the boost that comes with meeting like-minded people.
David: It is difficult to find anything that Compassion could be doing better. With regard to what we could do more of, - I am impressed by the coverage that Compassion in World Farming receives already in the media, i.e. BBC Radio 4 Farming Today. I just wonder how we can get more?