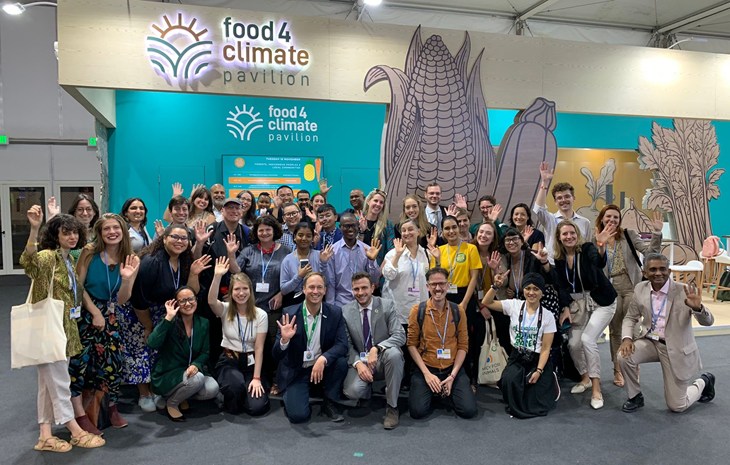 This December, a Compassion team will head to the UN Climate Change Conference COP28 in Dubai to highlight the urgent need for food systems transformation.
The conference – which runs from 30 November to 12 December – provides a global platform for our International Affairs team to advocate for food systems transformation, including a reduction in the overconsumption of animal sourced foods.
For the second year running, we are partnering with other NGOs and organisations, including ProVeg International and World Animal Protection to organise the Food4Climate Pavilion, which will focus on inclusive, science-based solutions to transform food systems including protein diversification and promoting climate-friendly diets. The Pavilion will be taking a long-term, whole systems approach to build healthy, climate friendly and equitable food systems that are sustainable and consider all perspectives, from farmers to policymakers.
Role of food in climate crisis
Together, we will raise awareness of the role food plays in the climate crisis and call for urgent systems transformation for the sake of the planet. Our team will also speak at events, take part in negotiations and host several side events at the Pavilion.
Industrial animal agriculture is one of the largest contributors to climate change. The livestock sector produces more direct greenhouse gas emissions than the direct emissions of all the world's planes, trains and cars put together. * As well as being the biggest cause of animal cruelty on the planet and harmful to human health, intensive farming is damaging our climate and planet.
Sustainable and climate-friendly catering
Encouragingly, for the first time this year, the conference's Presidency has agreed to demonstrate sustainable food systems in its catering provision at COP28. In response to calls from The Youth Climate Movement (YOUNGO), Dr Sultan Al Jaber stated that the conference will prioritise the availability of plant-based food options that are affordable, nutritious, and locally and regionally sourced, with clear emissions labelling. This year will also see the word 'food' included in one of the thematic days for the first time – 'Food, Agriculture and Water' day will take place on 10 December.
Our Global Director of Campaigns and Policy Advocacy, Debbie Tripley, who is part of the team attending COP28, comments: "Industrial animal agriculture is a significant driver of climate change so unless we act now to ensure we have more balanced and nutritious diets, we won't be able to avert a climate disaster.
"The Food4Climate Pavilion will help attract significant attention to the urgent need to transform our global food system and begin a just transition towards regenerative farming that prioritises high-welfare, climate and nature-positive practices.
"We are delighted to be supporting the Pavilion for a second year and look forward to hosting several key events there to inform, debate and drive positive action, before it's too late."
Read more about the urgent need for a global food transformation.
* https://www.iea.org/data-and-statistics/charts/global-co2-emissions-in-transport-by-mode-in-the-sustainable-development-scenario-2000-2070