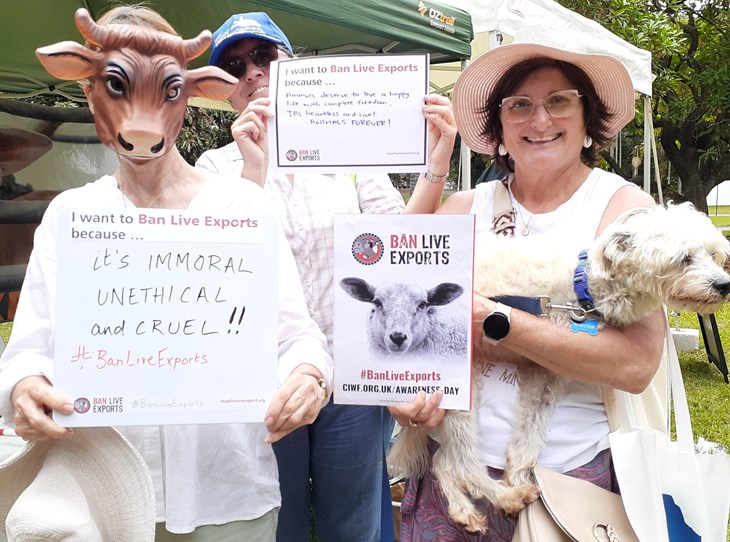 In a resounding display of solidarity, activists, NGOS, concerned citizens, and our supporters around the world came together on the 8th annual Ban Live Exports: International Awareness Day to highlight the urgent need to end the inhumane practice of live animal exports.
This year, citizens in the EU sent digital postcards showing harrowing images of live exports to EU ministers to urge them to support stronger transit laws and a ban on live EU exports. The total number of postcards sent was an impressive 464,586.
And no fewer than 120 NGOs across 31 countries took part in the day of action, encouraging their supporters to raise awareness, gather support, and push for legislative changes that improve the welfare of animals.
Shocking footage exposes cruelty
To mark the day, we launched shocking never-before-seen footage which exposes the horrific conditions live animals being exported from Europe are forced to endure. It shows animals being dragged and kicked, and forced into packed, filthy, and overheated trucks and boats. The animals can be heard crying in distress and terror during the relentless journey.
In an impressive show of support, the NGO Forum Animal in Brazil projected images and videos of animals suffering during transportation on landmark buildings in Roosevelt Square in San Paolo. 
Other NGOs supporting included Mercy for Animals, World Animal Protection, Four Paws, Animal Equality, and Humane Society International who ran campaigns ranging from banner trucks and rallies to digital campaigns and fundraising.
Social media impact
Finally, the social media response was significant with 9,349 tweets and a potential reach of nearly 10 million people. This included the support of UK celebrity and our Patron, Deborah Meaden, who retweeted our posts.
Elena Artico, our Global Head of Campaigns, said: "This overwhelming response from individuals and organisations has far exceeded our expectations, highlighting the growing momentum and collective determination to end this cruel and unnecessary trade in live animals.
"We're now closer than ever to ending this misery for millions of animals. Countries such as New Zealand and Brazil have led the way but now the EU must use its current review of animal welfare legislation to strengthen transit laws and ban live exports. And the UK government should overturn its decision to drop legislation that would ban them as a matter of urgency."
Urge ministers to support the proposed legislation to ban live exports and improve transit laws.