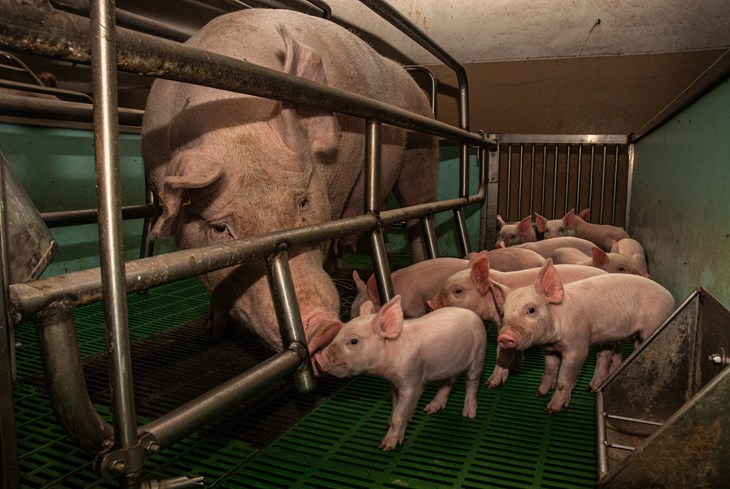 While some European countries have made big strides towards farming without animals in cages, our new league table released today (8 March) shows that an EU-wide ban is still needed to End the Cage Age across the continent.
The league table rates all 27 EU Member States depending on how many farmed animals are kept in cages in each country. It shows that while some countries have improved, none are entirely cage-free, and hundreds of millions of sows, calves, quails, rabbits, hens, ducks and geese are still being confined for their entire lives or part of it, often in horrific conditions.
A long way to go
The proportion of farm animals kept in cages in Europe, varies widely from Malta the highest (99%), followed by Spain (87%) and Portugal (81%). 66% of farmed animals are caged in France, with the figure 13% in Germany.
Even in countries with the lowest percentage of caged animals – such as Austria (3%) and Luxembourg (2%) – the number of animals still imprisoned is estimated to be in the hundreds of thousands.
That's why Compassion is calling on the EU to do more to end the suffering of farmed animals – and now is the perfect time. After committing to banning the use of cages in farming in 2021, the EU Commission is now reviewing all its animal welfare legislation - an historic opportunity for the EU to start ending factory farming and bringing our animal welfare laws into line with scientific evidence and citizens' expectations.
Alan Cumming joins the fight
Acclaimed actor Alan Cumming is backing our campaign. In a new video out today, he exposes the horrors faced by farmed animals throughout Europe. In it, he asks EU citizens to join us by writing to their national agriculture ministers urging them to become 'superheroes' for animals by agreeing to the planned cages ban and supporting stronger welfare laws for animals.
The X2: X-Men United, Goldeneye and Spy Kids actor says: "Right now, the welfare of billions of animals is at stake. The EU has the chance to make history by ending factory farming. But we need your help. We must make sure they don't miss this vital opportunity to give animals the legal protection they so desperately need. Please write to your agriculture minister today, urging them to become a superhero by giving animals lives worth living."
The time for change is now
Across the EU, around 300 million farmed animals are kept in cages, in some cases from birth until they are slaughtered, often in barren and cramped conditions with little space to move or express their natural behaviours. Many suffer unnecessary and painful mutilations, including hens which have their beaks removed in painful procedures.
Olga Kikou, Head of Compassion in World Farming EU, said: "It's appalling that so many countries in the EU are failing their animals, people, and environment by continuing to farm animals in cruel cages. The EU Commission's review of animal welfare laws is a once in a lifetime opportunity to give millions of farmed animals lives worth living, as well as improving our health, climate, and environment. It's time for our laws to reflect what the scientific evidence shows, what EU citizens want, and what animals deserve – compassionate farming that works in harmony with nature rather than against it."
Help us End the Cage Age and make sure EU laws protect the welfare of farmed animals across the continent. Write to your agricultural minister now.