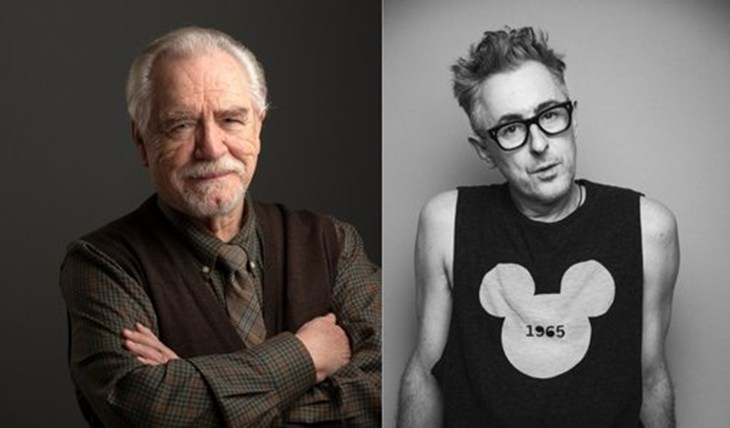 Internationally renowned actors Brian Cox and Alan Cumming have joined a growing list of more than 250 academics, scientists, and arts and media figures who have signed our 'Vision for Fair Food and Farming'.
In supporting the Vision - which aims to ensure that food and farming policies around the world work in harmony with nature, animals, and people - they join a long list of academics, scientists and well-known artists and personalities.
A new way for food and farming
Both Scottish celebrities backed our End of the Line for Factory Farming campaign when it launched in November 2022 – a global movement urging world leaders to ban factory farming and transform the future of food.
Now, they are going one step further to show their support for a new Vision for the future of food and farming to ensure better welfare for farmed animals, and better protection for wildlife, human health, and the planet as a whole.
Other Compassion Visionaries include actors Dame Joanna Lumley, Dame Judi Dench, and Miriam Margolyes MBE; musician Rufus Wainwright; business leaders Deborah Meaden, Liz Earle and Gordon Roddick, and academics such as Jane Goodall, PhD, DBE, founder - the Jane Goodall Institute & UN Messenger of Peace.
Change for a better future
Brian Cox has spent decades on stage and screen, most recently known for playing the lead character, Logan Roy in the hit HBO TV show, Succession. He says: "We are accelerating towards climate disaster, but there are policies our leaders can implement to address its root causes – unsustainable and cruel farming practices being one of them. I've signed Compassion in World Farming's Vision to call on leaders to introduce positive food and farming policies that will protect our planet and its precious resources, reduce animal and human suffering, and ensure future generations do not go hungry."
Alan Cumming is known for numerous film, TV and theatre roles, including The Good Wife and X2:X-Men United. He adds: "There is something wrong with our world when millions of people go hungry every day, yet there is more than enough food to go round. Our food and farming systems are harmful to our health, and that of the planet and are the cause of enormous animal cruelty. I'm pleased to join this growing list of wonderful humans who are supporting Compassion in World Farming's call for policy change for a better future, before it's too late."
Debbie Tripley, Global Director of Campaigns and Advocacy at Compassion in World Farming welcomed the news, adding: "We're thrilled that both Alan and Brian have come on board as Visionaries. Having the support of such successful and prominent individuals is so important for us in raising awareness of these vital issues. We at Compassion extend our thanks for their support in helping us to achieve a future where no-one goes hungry, animals do not have to suffer and the environment is no longer permitted to be destroyed due to intensive farming practices that are no longer fit for purpose."
Find out how you can support our mission to end factory farming.