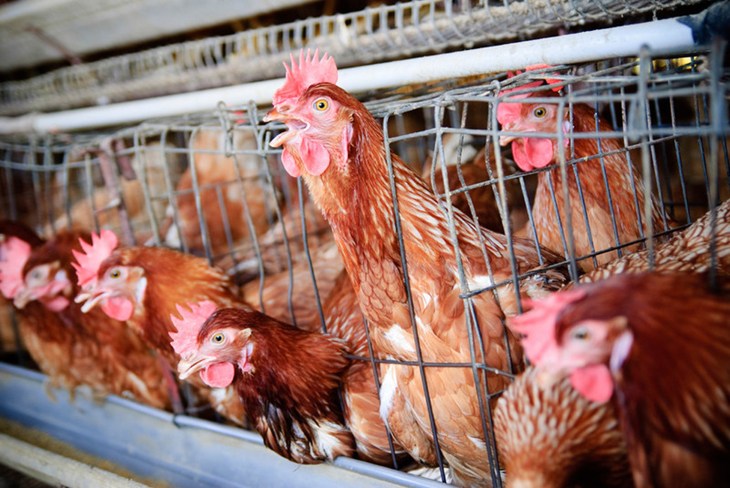 Today (21 February), the European Food and Safety Authority (EFSA) confirmed that welfare conditions for egg-laying hens and chickens grown for meat must be improved.
Cramped and cruel conditions
The scientific body released a new study showing that hens should be housed in cage-free systems where they have room to roam and express their natural behaviours such as flapping and foraging.
Broiler – or meat – chickens, often reared in overcrowded conditions, should also be raised with more space, and should only be slow-growing breeds to avoid the crippling and cruel effects of being bred to grow unnaturally quickly.
Chickens can live for six or more years under natural conditions. However, those used in intensive farming will commonly be slaughtered before they are six weeks old. In intensive farms, their welfare is seriously compromised by overcrowding in filthy and barren environments.
The EFSA report also recommends that neither hens nor chickens should be mutilated in any way. For example, hens often have their beaks removed to stop them from pecking each other in cramped cages, but this painful procedure wouldn't be necessary if they had space to live more naturally.
Welcome recommendations
We strongly welcome the EFSA's recommendations. We are calling on the EU to ban cages for farmed animals, and thanks to our End the Cage Age campaign, supported by 1.4 million Europeans, the European Commission has already committed to doing so by 2027. We are also calling on the EU to improve other important animal welfare legislation to ensure farmed animals can live lives worth living.
While there is still further to go, several EU countries are already on board. Cages for laying hens are, or will soon be, phased out in Austria, Czechia, Germany, Luxembourg and Slovakia. The Wallonia region of Belgium and France have banned new or retrofitted enriched cage systems.
But right now, around 180 million hens are still kept in so-called 'enriched' cages. These were designed to meet the hens' behavioural needs, but the cages still severely limit their natural behaviours and keep them living in horrific conditions.
Olga Kikou, Head of Compassion in World Farming EU, said: "For many years, industry lobbyists have been claiming that factory farming is beneficial for the welfare of farmed animals but today's Opinions by the EU scientific body prove them wrong. We are pleased to see that EFSA has confirmed that caging farmed animals is detrimental for their welfare, and that we need to reduce the stocking density of meat chickens, prevent mutilations and use slow-growing breeds.
"The EU must adopt new science-based laws for all farmed animals to rectify the outdated and weak provisions in the legislation currently in force. Today's scientific opinions offer irrefutable evidence, discrediting industry and ministers' efforts to delay or prevent the long-awaited comprehensive revision of the EU's animal welfare laws."
Read more about our End the Cage Age campaign.