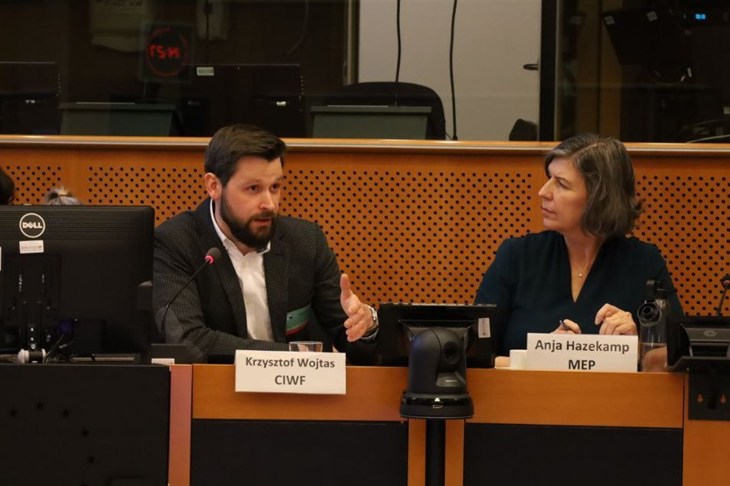 Today (24 January) we presented a pioneering new report to members of the European Parliament in Brussels that shows how improving the welfare of farmed fish and farming lower in the food chain is key to making European aquaculture more sustainable.
The report  – Rethinking EU Aquaculture for People, Planet, and Animals – is the first to draw together the sustainability and environmental issues caused by intensive EU fish farming, the need to move away from this type of production to improve animal welfare and create a more sustainable industry, and to give clear policy solutions for legislators. It calls for strict new EU welfare requirements for fish and policies that promote sustainable alternatives like farming seaweed.
Problems caused by intensive production
Written by our fish policy team, led by Dr Krzysztof Wojtas, the report includes 15 clear policy recommendations and outlines the problems caused by intensive, feed-based production of aquatic animals, which is increasing in Europe and worldwide. It shows that these systems typically result in a net loss of food available for people and highlights the urgent need to steer the EU aquaculture industry towards sustainable production of aquatic species that are lower in the food chain and in extensive systems.
Nearly 90% of assessed wild fish stocks are overfished or fished at their maximum yields and aquaculture is often heralded as a solution. However, a large proportion of modern aquaculture farms carnivorous fish (like salmon, trout or tuna) in intensive feed-based systems, which actually contributes to overfishing and creates many environmental and welfare problems.
How to improve farmed fish welfare
Krzysztof presented the report to leading aquaculture and fish policy experts and members of the European Parliament and the Commission at the conference in Brussels hosted by MEPs Francisco Guerreiro and Anja Hazekamp.   
Panelists at the event – including Ester Alaez Ponz, from the European Commission's department for Health and Food Safety, and Christine Xu, Head of Strategic Initiatives at the Aquatic Life Institute – discussed how to improve the welfare of farmed fish and the sustainability of aquaculture in the EU, ahead of the publication of the European Commission's proposals for revising EU animal welfare legislation later this year.
Olga Kikou, our Head of Compassion in World Farming EU, said: "Fish farming in the EU is neither sustainable, nor ethical, since the legal requirements are very weak. However, this year will be decisive. The EU is overhauling its outdated laws protecting farmed animals and farmed fish must not be forgotten. Better welfare standards will not only prevent unnecessary suffering in underwater factory farms, they will also help reduce the industry's negative impacts on the environment and food security."
Between 0.5 and 1.2 billion fish are farmed every year in the EU. To maximize profit, fish are commonly reared at high stocking densities and are often killed inhumanely without prior stunning, causing tremendous suffering. Farmed fish have strikingly high mortality rates and many die before slaughter.
Intensive fish farming also wrecks the environment by polluting with fish wastes and chemicals, causing biodiversity loss, disease outbreaks and overuse of antibiotics. Farming carnivorous species, such as shrimp, salmon and trout, has major environmental impacts and requires feed made from fish that could be used for human consumption, such as anchovy or sardines.
On 5 December, our petition calling for new standards to protect the welfare of farmed fish signed by more than 150,000 people was handed in to the European Commission.
Protecting fish welfare should be a priority
The EU Commission is currently reviewing the EU legislation for farmed animals. This is a once in a lifetime opportunity to improve the lives of billions of animals, including fish.
Protecting fish welfare should be a priority for the EU and all Member States. Join the movement in support of giving farmed animals lives worth living. Check out our social media channels for updates.