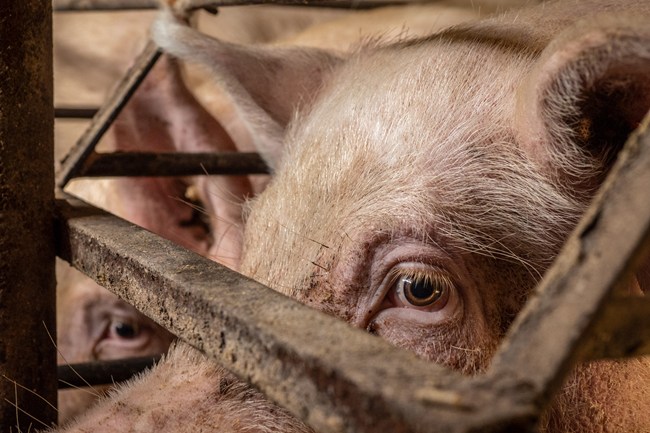 Today is World Cage Free Day – an event dedicated to raising awareness of the suffering of the billions of farmed animals that spend their lives locked up in cages.
Across the world today, organisations and individuals will highlight the suffering endured by millions of mother pigs, rabbits, ducks, geese, hens and other animals farmed in cages and the need for legislation to outlaw this cruel and unnecessary practice.
Four years of citizen mobilisation in Europe
In 2018, together with 170 organisations, we launched the 'End the Cage Age' European Citizens' Initiative (ECI) – a petition allowing Europeans to propose legislation. Within one year of its launch, 1.4 million people had signed the ECI and in June 2021 the EU Parliament voted overwhelmingly in support of a cages phase-out. 
Later that month, the European Commission made a historic commitment to prohibit cages for hens, mother pigs, calves, rabbits, ducks, geese and other farmed animals, with a phase-out deadline of 2027.
Each year in the EU alone, over 300 million farmed animals – including hens, quail, rabbits, sows, calves and ducks and geese – spend most, or all of their lives in cages that prevent them from very basic movements and natural behaviours.
Parma ham supply chains under the spotlight
Our latest investigation, released in July this year, shows powerful footage from 16 farms across Italy, Spain, France and Poland and reveals the cruelty, torment and frustration that mother pigs are forced to suffer when caged.
The farms we investigated include those supplying so-called 'premium' products – Parma and Bayonne hams. We revealed that sows on these farms were kept in the same cruel confinement as those on 'standard' farms.
About 85% of all mother pigs in the EU are forced to endure nearly half of their adult lives in a cage where they cannot even turn around.
EFSA report confirms pig suffering
The EU food watchdog, the EU Food Safety Authority (EFSA), recently confirmed that the current severe restriction of movement that mother pigs endure in these systems inflicts unnecessary suffering, as viable alternatives exist. We believe it is time for the EU Commission to finally end this cruelty and propose its much-awaited ban on cages next year as part of its revision of animal welfare legislation.
A report released in March by the Institute for European Environmental Policy, which we commissioned, concluded that both EU and national financial mechanisms can be used to support farmers and ensure a smooth transition to cage-free animal agriculture. Some of this financial support is already available to farmers.
EU must keep its promise
Olga Kikou, our Head of EU said: "The suffering of animals in cages is irrefutable. The EU Commission must present a timely and effective proposal to end the use of cages, once and for all.
"During our campaign we saw 'Big Agribusiness' lobby hard to defend cruel practices to safeguard their profits. It proved to be a particularly challenging battle, against their army of lawyers and spin-doctors.
"But this did not stop us and won't stop us until we End the Cage Age. Until all farmed animals are free from cages, we will continue to highlight their unjust treatment and expose the cruel realities of industrial farming."