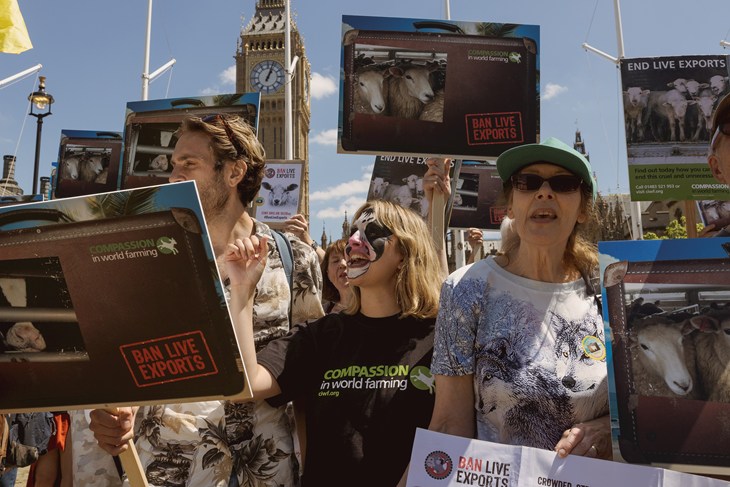 Activists across the globe joined forces, last week (14th June), to call for an end to the cruel practice of live animal exports on Ban Live Exports: International Awareness Day.
Our day of action mobilised 100,000 people and 132 organisations in 45 different countries. Online, in an overwhelming show of support, activists added their voices to a hugely successful Twitterstorm which saw Tweets containing the hashtag #BanLiveExports receive more than 41 million views.
Rally at UK Parliament
For the first time since the pandemic, the awareness day also featured an in-person event, with activists and some of our high-profile supporters gathering outside Parliament in London. Despite a UK Government promise to ban the trade, the Animal Welfare (Kept Animals) Bill – which has the power to do so – has been extremely slow to progress through parliament. 
Harry Potter star, Evanna Lynch, Downton Abbey and After Life actor, Peter Egan, and TV Vets Emma Milne and Marc Abraham OBE, joined the rally, which highlighted the horrendous journeys millions of farm animals endure each year when they are exported overseas from Britain for slaughter or fattening. 
This year, the timing of the awareness day coincided tragically with news that around 15,000 sheep being transported from Sudan to Saudi Arabia drowned after the ship carrying them capsized. The disaster highlighted the urgency of the situation, and the need to keep the pressure on politicians to end the trade once and for all.
Overwhelming support
Mandy Carter, Head of Campaigns at Compassion in World Farming, said: "We're truly overwhelmed by the amount of support we received for this year's Ban Live Exports: International Awareness Day. It's inspiring to see so many people come together to call for an end to this horrific trade and it will make a real difference.
"We are grateful for everyone who came together to stand up for these animals. We must keep pushing. Together, we can end live exports once and for all."
This year, we  released a compelling new video of a spoof travel agency advert to show the inadequacy of EU regulations to protect the welfare of farmed animals during transport. 
The Ban Live Exports: International Awareness Day, was launched in 2016 and is held on 14 June every year.
Find out more about our work to Ban Live Exports.