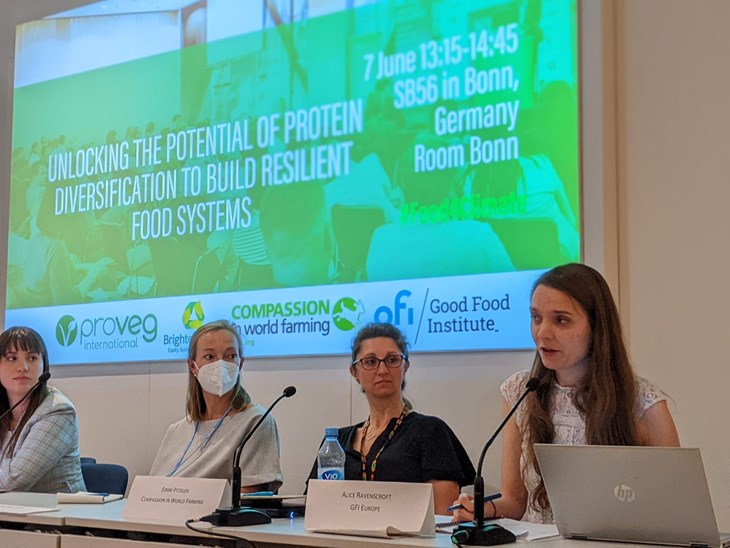 The importance of sustainable animal agriculture, dietary shifts and alternative proteins and how they can help us meet global climate targets, was the focus of an event we co-organised at the United Nations Framework Convention on Climate Change (UNFCCC) yesterday (7 June).
The Bonn event, called 'Unlocking the potential of protein diversification to build resilient food systems', was organized along with ProVeg International, Brighter Green, and The Good Food Institute. It brought together an audience of diverse stakeholders who heard from a variety of speakers on this important topic, including Zitouni Ould-Dada, Deputy Director in the Climate and Environment Division at the Food and Agriculture Organization (FAO) and Anna Salminen, Ministry of Agriculture and Forestry, Finland.
Tackling climate change
Our Global Head of Food Systems Advocacy, Eirini Pitsilidi, also spoke at the event. She said: "The UNFCCC negotiations on agriculture recognize the unique potential of agriculture in tackling climate change. We will work together with the Member States and other stakeholders to ensure this work progresses at and beyond COP27 in November.
"Truly sustainable animal agriculture combined with reduced and sustainable consumption of animal-sourced foods can play a fundamental role in mitigating climate change, as the latest IPCC assessment reports have also highlighted."
Reducing global emissions
Research shows that by 2050, protein diversification – including investing in plant-based and cultivated meat – could reduce global emissions; free up an area of land the size of the Amazon rainforest, and cut global food prices by 10%.
Following the Bonn conference, the spotlight will turn to COP27 where we hope there will be a prominent focus on food production and agriculture.
Watch a webcast of the event.