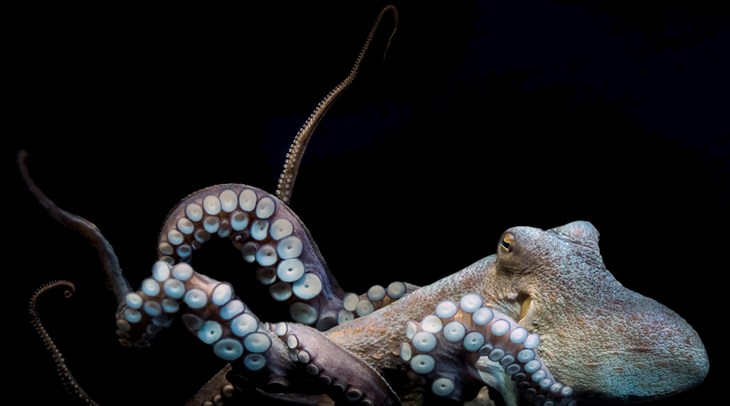 Today (19th May) we've joined forces with leading NGOs to urge the Canary Islands authorities to reject plans for a new octopus farm and to ensure it doesn't receive EU funding.
Together with, WWF, Greenpeace, and Ecologistas en Acción, we have written to the Island's government urging them to ensure that EU funds are not used to progress octopus farming. Confining these intelligent, naturally solitary creatures in underwater factory farms would not only be cruel, it would also be incompatible with multiple EU policies, including their own environmental guidelines. 
The case against octopus farming
In October last year, we launched a new report, Octopus Farming Farming: A Recipe for Disaster, outlining the scientific case against octopus farming. Despite this evidence, Company Nueva Pescanova announced that it plans to open the world's first octopus farm in Las Palmas de Gran Canaria by the summer of 2023, sparking outrage across the world.
Octopus has become an increasingly popular food in recent decades, particularly in Spain. As a result, wild octopus numbers are dwindling. In 2015, the number of octopuses caught around the world reached a high of 400,000 tonnes, 10 times more than in 1950. Octopus farming will do nothing to help wild populations and would negatively impact the octopuses' welfare and the environment.
Because octopuses are carnivorous, they would need to be fed huge quantities of animal protein including fish and crustaceans in farms – a completely unsustainable practice that would lead to even further overfishing of the world's oceans.
Highly intelligent creatures
Octopuses are highly intelligent creatures that need to explore and engage with their environment. They are also solitary by nature – forcing them to live side by side in confined spaces would likely lead to aggression, territorialism, and even cannibalism. In addition, there is currently no legislation to protect their welfare in farms and there is no approved humane method of slaughter.
It has been reported that Nueva Pescanova is planning to apply for funding from the European Recovery Fund to launch the farm. Yet, octopus farming is incompatible with multiple EU policies including the European Green Deal, the Strategic Guidelines for the Sustainable Development of EU Aquaculture Guideline, the Farm to Fork strategy, and the Treaty on the Functioning of the European Union.
Elena Lara, Research Manager in our Fish Team, and author of the report, said: "There is no acceptable reason for octopuses to be farmed when we know the suffering it will inflict – their lives would simply not be worth living. It is also unsustainable due to their carnivorous diets causing further overfishing of the world's oceans, and farming will do nothing to aid wild populations as Nueva Pescoanova claims.
"As such, octopus farming is completely incompatible with multiple EU policies so it is unthinkable that the company should be allowed to receive public funds from the EU for this project. The Canary Islands government must take a stand and stop them embarking on this cruel, inhumane, and unsustainable project." 
We will continue to do what we can to prevent the development of these underwater factory farms.
Read our report on octopus farming.