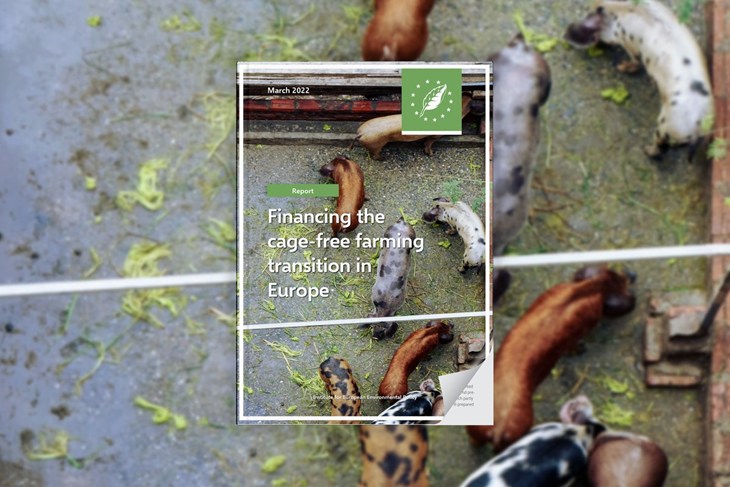 A new report by policy experts released today (21st March) shows that a smooth financial transition can be achieved for farmers when the European Union (EU) bans the caging of farmed animals in line with its 2021 commitment.
The Institute for European Environmental Policy (IEEP) report, Financing the cage-free farming transition in Europe, shows that both EU and national financial mechanisms can be used – some of which are already available to farmers – to support the transition to cage-free animal agriculture across the EU.
Commissioned by our EU team, it shows that by using a variety of national and EU funds and mechanisms, the ban can be introduced smoothly, effectively and without delay. It also describes how broader policy tools could be used to complement the financial mechanisms, such as food labelling policies, research and innovation.
Ending the Cage Age
Last year, the European Commission committed to introducing legislation to end the caging of EU farm animals as part of its plan to put forward proposals to revise all EU animal welfare legislation in late 2023. This commitment was made in response to the European Citizens' Initiative 'End the Cage Age', led by Compassion, which gathered 1.4 million signatures from citizens across the EU and was the first successful initiative for farmed animals.
Game Changer
"The revision of EU animal welfare legislation has the potential to change our obsolete farming system, improving the lives of hundreds of millions of farmed animals," said Olga Kikou, Head of Compassion in World Farming EU and one of the organisers of the Initiative.
"This report sends a clear message to Member States, farmers and the EU Commission. Both EU and national financial mechanisms can be utilised to ensure that the shift can be smooth and effective. There is no time to waste."
Funding Opportunities
A large section of the report is devoted to the common agricultural policy (CAP) as a tool to obtain financial support for improved animal welfare, and there are further funding opportunities available, such as the EU's post-pandemic recovery plan, Next Generation EU (NGEU).
Individual Member States play a key role in setting legislative standards, objectives and targeted policy mechanisms that can make the transition a reality. The report finds that significant sums of national money and other economic measures could be mobilised to support the transition, resulting in higher demand for cage-free products and increased consumer awareness.
Read more about our work to End the Cage Age here.