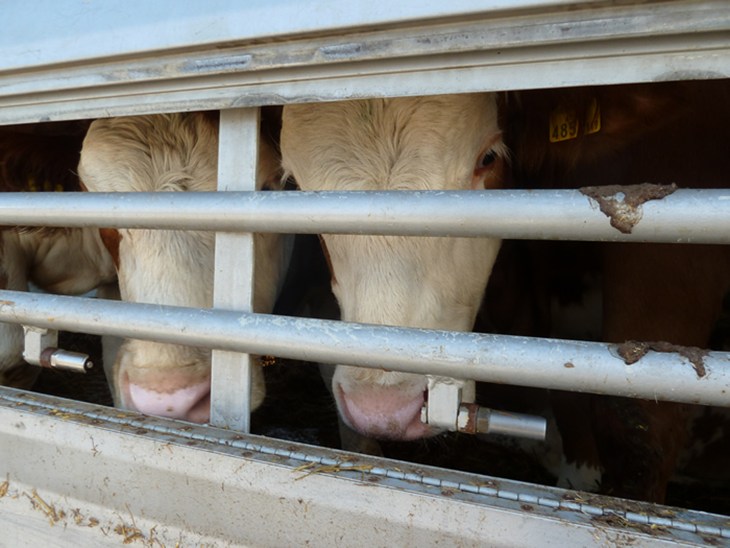 The European Parliament voted to allow the cruel export of live animals to continue, on Thursday (20th January) despite years of high profile campaigns and a petition signed by more than 900,000 European citizens calling for a ban.
This deeply disappointing result means that more than three million animals will continue to be exported from the EU to third countries each year. Long and stressful journeys by road and/or sea to places such as Turkey, Lebanon, Libya and Algeria, will continue even though it is impossible for the EU to safeguard their welfare beyond its borders.
European citizens show support for ban
A week before the vote, we submitted a joint petition to MEP Tilly Metz, who chairs the Committee of Inquiry on the Protection of Animals During Transit (ANIT), along with Four Paws, WeMove and Animals International. The petition carried the signatures of more than 900,000 European citizens in support of a ban and improved animal protection during transit.
It is not uncommon for animals to perish during transit, and, in the worst cases, thousands die. In 2019, more than 14,000 sheep destined for export drowned when the cargo ship carrying them capsized in Romania's black Sea port of Midia.
This result also means that baby animals, such as calves, can still be transported from the age of four weeks or even younger, suffering from hunger, thirst and thermal stress which heavily impacts their vulnerable immune systems. Heavily pregnant animals can also continue to be transported.
Horrific and deadly conditions
"These recommendations do very little to better protect animals from the often horrific and sometimes deadly conditions they have to endure during transport within the EU or when exported to third countries every year," said Olga Kikou, our Head of CIWF EU. "With the European Commission currently preparing a revision of all EU animal welfare legislation, the Parliament has missed a huge opportunity to bring its influence to bear in favour of better animal transport conditions that have long been called for by the public across Europe."
We will continue to campaign for a ban and are urging the European Commission to include a number of provisions when it puts forward its proposal to revise the EU legislation on animal transport next year, including:
A ban on live animal exports to third countries by all transport modes, replacing them with a trade in meat, carcasses and genetic materials
Measures to reduce the transport of animals within the EU
A ban on the transport of unweaned animals
A ban on the transport of pregnant animals if 40% of the gestation period has passed
Measures to only allow sea transport under strict rules, always with a vet on board and with feasible emergency plans
Temperature rules
Absolute journey time limits
Find out more about live animal exports here.